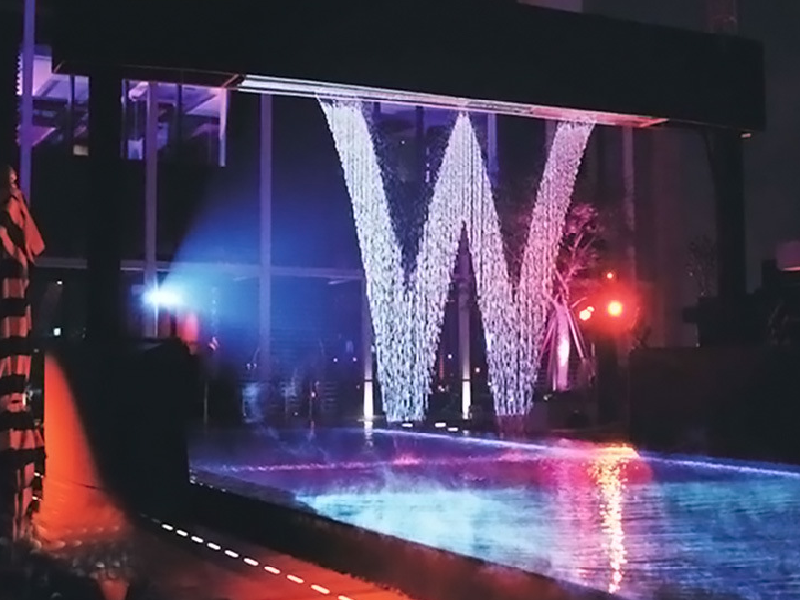 Using the digital water curtain, we can print letters and symbols on a dynamic water wall, formed by multiple, vertical water jets. Using the included software and computer equipment, this interactive water curtain is able to represent both symbols and letters, as the user desires.
The digital water curtain is available in prefabricated modules that include 32 programmable nozzles per linear meter. The included software is user-friendly, converting simple keystrokes into signals to open and close the electro valves, thus printing letters and symbols in the water.
This type of digital, interactive water curtain is the ideal decorative complement for shopping malls and public spaces open to tourism, as well as hotel and airport lobbies. In the digital waterfall we can integrate motion sensors to detect the approach of people, and thereby achieving the interaction with the public at all kinds of events.
He Digital waterfall or digital curtain linear shaped is provided in prefabricated modules made of quick action valves, nozzles, RGB LED light fixtures and DMX control necessary to print all kind of symbols and graphics in the water.
Digital waterfall works thanks to a software custom developed by our engineers, and sends the DMX signals needed to operate the valves, producing segments of water in the air, as a pixel, form different figures and symbols.
They are composed of prefabricated modules of 2 and 3 meters that include 32 programmable nozzles per linear meter. They include water pump, the computer hardware and software necessary to print the desired effects in the water. Includes protection and control panel with touch screen display to interact with the digital water curtain. The software lets you easily configure the entire system in person or remotely via internet